Tuscan farmhouse with horses: horse riding in Tuscany, walking paths in the Tiber Valley (Valtiberina) at Anghiari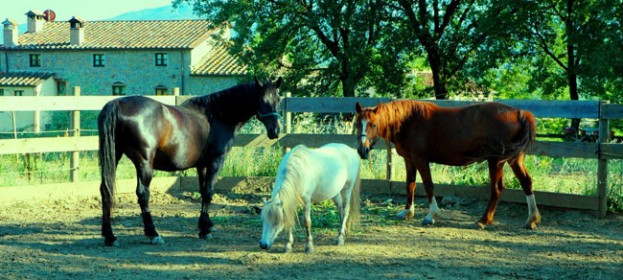 In our farm you can approach our three horses (Stella, Pegaso and Pascal).
We are not instructors and so, for your horse ridings, we will adress you to some riding instructors (6 or 10 kilometers away from Il Sasso). They will teach you riding, organize walks in the Tiber Valley and, for children, experience the pony.
In the Tiber there is a dense network of paths, to travel on foot, horseback, mountain bikes, for a total of about 250 km, tested, integrated and re-presented in the guide NETWORK HIKING VALTIBERINA (REV). You can view the paths and difficulties clicking on this link  You can view the paths and difficulties clicking on this link.
Several events related to the equestrian world testify to the passion of our country people for this beautiful animal:
September: National Horse Show – Città di Castello (PG)
The National Horse Show of Città di Castello is one of the few events related to the horse that can boast a long and established tradition. As every year, the thousands of spectators who will arrive in the upper Tiber Valley can attend shows, conferences, exhibitions of great interest and thrilling contests.
Autumn: Championships endurance horse – Anghiari (AR)
many editions of the national, regional and Italian Endurance Cup championships have recently been organized at the Castello di Sorci, 500 m away from Il Sasso.
Spring: Sansepolcro (AR)
The strong link between man and horse can be felt even during some events dedicated to horses that take place during the fairs of Mezzaquaresima in Sansepolcro.