Motorbikes and Rally in Tuscany: paths for bikers along medieval villages and tuscan hills, enduro trails in the Apennines mountains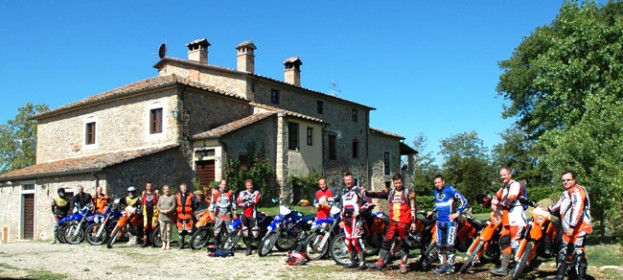 Motorbikes
The territory offers to centaurs many opportuities of itineraries, between rolling hills in medieval villages.
Within 15 km 4 regions are intertwined: Tuscany, Umbria, Marche and Emilia Romagna.
The knowledge of the area and the shared passion for the enduro, for the nature and in general for the 2 wheels led a group of friends in Anghiari to form the Motoclub Adventures of Anghiari. Every weekend they are together to share unique experiences, organizing excursions along the paths of the Apennines, respecting the people and the land that surrounds us  (www.mcadventures.it).
Anghiari Motoclub is linked with FMI (Motorcycle Fderation of Italy) and CONI (Italian Olympic Committee) and organizes an annual event that attracts in Anghiari many enduro lovers, both amateur and professional, also allowing them to admire Anghiari, one of the most beautiful villages in Italy and the wonderful Tuscan Tiber Valley.
Rally
In the first weekend of March, our tuscan hills are the evocative setting of the now traditional (7th edition) RALLY "RONDE VALTIBERINA"  (www.prsgroup.it),
An event that includes international stars and many fans.