Trekking e Mountain Bike in Tuscany: sporty holiday among tuscan hills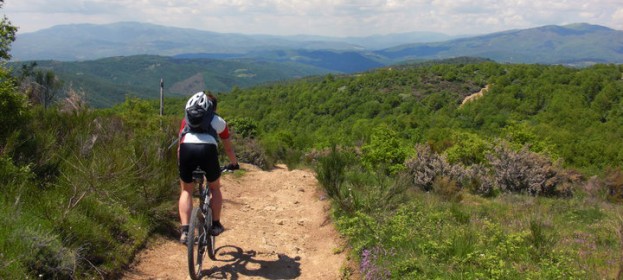 In the Tiber Valley there is an extensive network of trails, to go on foot, horseback, mountain bikes, for a total of about 250 km, tested, integrated and presented in the guide HIKING NETWORK VALTIBERINA (REV).
Part of these paths, of which some sections lap the land of our farm, retrace the journey of St. Francis from the Mount of La Verna to Assisi and are indicated by the letter τ black on yellow dot and the symbol of the cassock of the Holy.
The Park of Sasso Simone and The Alpe della Luna are other charming paths.
" THIS IS NOT A SIMPLE WEB OF PATHS …
IT'S A SYSTEM OF RURAL TOURISM DEVELOPMENT
BEST REPRESENTED BY WALKING, OR, BETTER, BY GOING SLOW "
"Walking along the paths of HIKING NETWORK VALTIBERINA you will meet many farmhouses. Never refuse a coffee that is being offered to you and always have time to chat with a farmer, you will be fascinated by their simple and wise words, you will return home richer than before and you will do a favor to those of new people have never seen so few."
Source: www.valtiberina.toscana.it/divulgativo/index.html
The keener cyclists should visit the site www.valtibike.it , They will find detailed information about routes and difficulties, and romantic two-wheeler the site www.lintrepida.it … "Pedaling in history" !
There is the possibility to rent bikes at Outdoor (Enrico tel. 3319077671) 10 minutes from Agriturismo Il Sasso.