Where to eat Tuscan… typical restaurants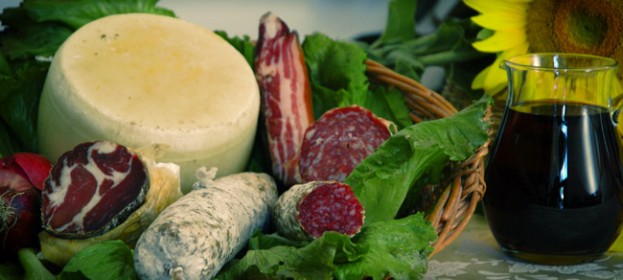 The farmhouse Il Sasso belongs to Tiber Valley Strada dei Sapori, the consortium of producers, restaurateurs and hoteliers who promotes the typical products of the Tiber Valley.
Other products are supplied by food companies belonging to the consortium Strada dei Sapori and by Tuscan Campagna Amica companies, a Coldiretti (farmer association) foundation that promotes Italian agriculture and direct sales from producer to consumer.
The proposal of the territory is
offer fresh, healthy and typical Tuscany specialties.
In the farmhouse Il Sasso We will be able to let you taste typical Tuscan products (meats, cheeses, vegetables, jams, cakes).
In order not to constrain the freedom of your holidays, we do not propose formulas for half board or full board.
To allow you to fully taste and appreciate the rich tradition of Tuscan and Tiber Valley cuisine, enjoying also the pleasure of changing the scenario that our wonderful villages offer, we suggest some typical restaurants of our land, which offer favorable conditions for Il Sasso guests.
RESTAURANTS SUGGESTED
ANGHIARI
La Nena  via G. Matteotti, 10/14 Anghiari Tel.+39 0575 789491
The restaurant is very proud of its name that is of a delightful woman from Anghiari who was adored by illustrious men and gastronomes alike. CLOSED ON MONDAY
Il feudo del Vicario Via Garibaldi, 33 Anghiari  Tel. +39 0575/787105
An ancient place in the historical center of Anghiari. Typical and seasonal Kitchen. Here you can find the true  "chianina"  meat  for  a true "fiorentina" steak. CLOSED ON WEDNESDAY
Agriturismo MAFUCCIO Loc. Ponte alla Piera (20 minutes) 0575/1787197 – 371/3180720
Typical but modern cuisine in a rustic and welcoming environment. RESERVATION IS REQUIRED.
Locanda al Castello di Sorci  Loc. San Lorenzo, Anghiari Tel. +39 0575 789066
Inn of the Castle that was the house of the famous condottiere Baldaccio Bruni and his wife Annalena Malatesta. With fixed menu it's possible to taste the simple traditional Cooking. CLOSED ON MONDAY
Vecchia Osteria La Pergola Tavernelle di Anghiari Anghiari Tel. 0575/723010
Il Cappello di Paglia Voc. Gnaccarino, Loc. Catigliano, 29,  Anghiari Tel:  +39 0575 70673
Located on top of a hill, panoramic. Fine dining with top-quality products. CLOSED ON MONDAY
MONTERCHI
La Pieve Vecchia Loc. Pieve Vecchia, 12 Monterchi Tel +39 0575 709053
This restaurant is laid out on a site where between the 5th and 6th Century the early Christian parish church of Sant'Antimo was built. Large Summer garden. Parking. CLOSED ON TUESDAY
Ristorante Senza Tempo Via dell'Ospedale, 18, Monterchi. Tel. + 390575 70756
Very close to the "Madonna del Parto" by Piero della Francesca. Location rustic and refined at the same time; traditional dishes and not only. Summer terrace. Reserved parking. CLOSED ON MONDAY
SANSEPOLCRO
Ristorante Fiorentino Via Luca Pacioli, 60 Sansepolcro Tel. +39 0575/742033
In the heart of Sansepolcro, on the first floor of an ancient palace, this restaurant offer an ample selection of local and Renaissance revisited dishes . CLOSED ON WEDNESDAY
Ristorante L'Incanto Via Tiberina Nord 920 Sansepolcro Tel: + 39 0575/742411
Fascinating and eclectic environment, furnished with different ancient and classic styles.
Curiosity: It is possible to buy all that you see.. CLOSED ON MONDAY
CITERNA
Ristorante Le Civette
Camminamento medievale Citerna  Tel. +39 075.7828323
Under the ancient wall of  Citerna; The menu is changed every week, according to seasonal foodstuffs. Fresh and homemade pasta and bread. CLOSED ON WEDNESDAY