Sasso's cuisine: traditional tuscan food, Km zero products for a sustainable tourism in Tuscany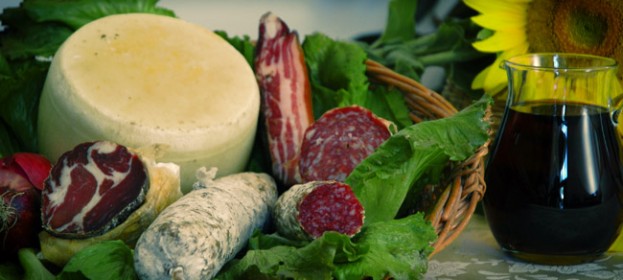 Our farm supports the quality of Tuscan products and offers its guests, fresh and authentic dishes, respecting and upholding the principle of short chain.
The farmhouse Il Sasso belongs to Tiber Valley Strada dei Sapori, the consortium of producers, restaurateurs and hoteliers who promotes the typical products of the Tiber Valley. Our farm vegetables, fruits, wine are used for the preparation of our dishes.
Other products are supplied by food companies belonging to the consortium Strada dei Sapori and by Tuscan Campagna Amica companies, a Coldiretti (farmer association) foundation that promotes Italian agriculture and direct sales from producer to consumer.
Our proposal
The guest is at the center of our attention and it is our pleasure to offer fresh, healthy and typical Tuscany specialties.
In order to met this requirement, it is necessary for us to have your reservation for dinner. We will be able to let you taste typical Tuscan products (meats, cheeses, pickled vegetables, jams, cakes).
In order not to constrain the freedom of your holidays, we do not propose formulas for half board or full board. To allow you to fully taste and appreciate the rich tradition of Tuscan and Tiber Valley cuisine, enjoying also the pleasure of changing the scenario that our wonderful villages offer, we suggest some typical restaurants of our land, which offer favorable conditions for Il Sasso guests.
Winter menu example
Crostini neri
Pecorino toscano con Miele

Bringoli al Sugo Finto

Rosticciana di Maiale alla Brace
Fagioli all'Uccelletto
Cavolo Nero al Tegame

Cantucci e Vin Santo
Summer Menu example
Bruschetta al Pomodoro
Melanzane sott'olio

Ravioli di Magro al Pomodoro e Basilico

Faraona alle Bacche di Ginepro
Bietole alle Olive Piccanti
Insalata dell'Orto

Crostata di Marmellata